5 Creative Outdoor Furniture Storage Solutions for Every Space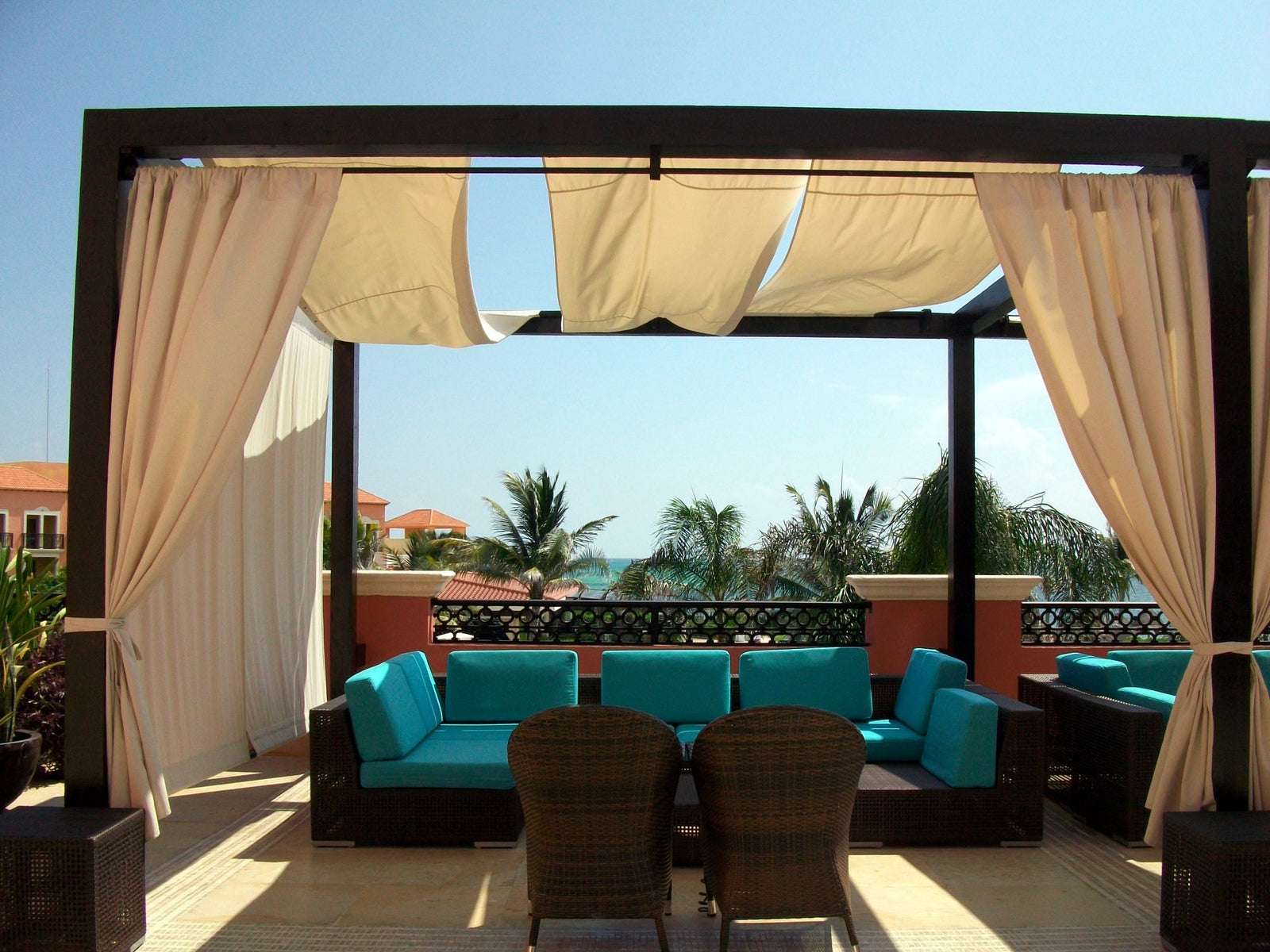 In the pursuit of creating a stylish and functional outdoor space, finding the right storage solutions for your furniture is essential. As you explore options for keeping your outdoor furniture protected and organized, consider implementing some creative storage ideas to make the most of your available space.
Having a neat and accessible storage area can save you time and effort when setting up for outdoor activities or gatherings. From cleverly designed benches to multi-purpose storage solutions, these creative ideas will not only save space but also help maintain the longevity of your outdoor furniture. In the next sections, we'll share five innovative and practical outdoor furniture storage solutions that you can integrate into your backyard or patio area.
Maximizing Patio Storage
Outdoor living spaces should be both functional and stylish. To achieve this, consider investing in creative storage solutions that help declutter your patio and keep everything organized. In this section, we'll discuss three popular outdoor furniture storage solutions: Deck Boxes, Storage Benches, and Outdoor Cabinets.
Deck Boxes
Deck boxes are versatile and practical storage solutions for your patio area. These weather-resistant containers provide ample space for keeping your outdoor essentials like cushions, toys, and gardening tools safe and dry. Look for a deck box made from durable materials like resin or powder-coated steel, as these can resist harsh outdoor conditions. Many deck boxes come with lockable lids for added security, and some even have wheels for easy mobility.
Storage Benches
Another excellent option for maximizing your patio storage is using storage benches. These dual-purpose furniture pieces not only offer seating but also provide storage space within their compartments. Choose a storage bench made from weatherproof and durable materials to ensure longevity and keep your belongings protected. Some benches come with additional features like built-in cup holders and side tables, enhancing both style and functionality on your patio.
Outdoor Cabinets
Outdoor cabinets add both style and storage to your patio area. These cabinets can store various items like grilling tools, dinnerware, and gardening equipment. When selecting an outdoor cabinet, prioritize weather-resistant and lockable models to safeguard your belongings. Materials like resin or powder-coated steel are recommended for their durability and ability to withstand the elements.
In summary, deck boxes, storage benches, and outdoor cabinets can help you maximize your patio storage while maintaining a stylish and functional space. Pay attention to material quality and weather resistance when selecting your storage solutions to ensure they last and provide the necessary protection for your belongings.
Creative Furniture Storage Ideas
Double Duty Furniture
Incorporating double duty furniture into your outdoor space is a smart way to maximize storage and functionality. Look for items that serve as both seating and storage, perfect for stowing away pillows, blankets, and towels. For example, a storage bench offers hidden storage space and comfortable seating, while a chaise lounge with built-in compartments provides relaxation and additional storage. This approach helps to declutter your space while allowing easy access to your belongings.
Wicker Ottomans
Wicker ottomans not only add style to your outdoor area but also provide an excellent storage solution. Sturdy and weather-resistant, they can hold various items such as cushions or garden tools. Many wicker ottomans have removable lids, making it easy for you to access your stored items. Some even come with built-in handles, so moving them around becomes a breeze. Consider Keter containers made from an all-weather resin mixture for an additional stylish and functional option.
Crate Coffee Table
A crate coffee table is another creative and versatile addition to your outdoor space. With both open shelving and hidden storage compartments, it offers accessible storage for frequently used items such as magazines and plant pots while keeping clutter out of sight. You can opt for a pallet crate coffee table with built-in drawers, adding function and visual appeal. Additionally, you can customize these tables by choosing the size and finish that best fits your needs, allowing your personality and style to shine through.
By utilizing these creative furniture storage ideas, you can make the most of your outdoor living space while keeping it tidy and organized. Remember to consider your specific storage needs and style preferences when choosing the right furniture for your outdoor area.
Gardening Storage Solutions
Potting Benches
A potting bench is a fantastic addition to your outdoor space, as it provides a dedicated area for repotting plants, tending to seedlings, and organizing your gardening tools. When choosing a potting bench, look for one made from durable materials, such as wood or galvanized metal, that can withstand the elements. Ensure the bench has a spacious work surface for handling soil and plants, as well as drawers or shelves for storing garden tools and supplies. Beyond its practical uses, a beautiful potting bench can also add an aesthetic touch to your backyard or patio.
Planters with Storage
Planters with built-in storage offer a creative and functional solution for organizing your garden tools while adding a touch of greenery to your outdoor space. These multifunctional planters can be made from various materials, such as wood, metal, or even plastic, ensuring they fit seamlessly into your backyard's style. Look for planters equipped with discreet storage compartments, like hidden drawers, to keep your gardening essentials organized and within reach.
Incorporate planters with storage into your garden or patio design to maximize space and keep your area tidy. You can also use wall hooks in combination with planters to hang and store cushions, small garden tools, and other accessories. Overall, investing in these gardening storage solutions will help you maintain a well-organized and visually appealing outdoor space.
Organization Tips and Tricks
Kiddie Parking Garage
A Kiddie Parking Garage is a clever storage solution for your little ones' outdoor toys. This dedicated space helps keep your yard neat and tidy while giving children easy access to their belongings. Consider building shelves or using heavy-duty construction materials to create a practical and durable parking garage for tricycles, scooters, and other ride-on toys.
Outdoor Cushions Storage Solutions
Storing outdoor cushions effectively helps prolong their lifespan and maintain their appearance. To protect cushions from the elements, consider investing in an outdoor storage box with adequate storage capacity. These boxes often feature weather-resistant materials, ensuring your cushions stay safe from rain, sun, and dirt. Another option is to utilize empty wall space and install simple yet functional shelving to keep cushions off the ground and well-ventilated.
Pool Noodle Storage
Pool noodles can quickly clutter your pool area. Create a dedicated space with shelves or bins tailored to their size and shape. You might also repurpose old laundry baskets or large storage bins as pool noodle storage solutions. These approaches make it easier for you and your family to access pool noodles and keep them organized.
Firewood Storage Ideas
Storing firewood properly is essential to keep it dry and ready for use. Consider creating a dedicated firewood storage area in your backyard, ideally with a roof or cover to shield the wood from rain. There are several design options, such as stacking firewood on a raised platform, using a storage box, or building custom shelving units. By keeping firewood neatly organized, you'll not only maintain a tidy outdoor space but also ensure your firewood stays in optimal condition for burning.
Frequently Asked Questions
How can I maximize storage in limited outdoor spaces?
To maximize storage in limited outdoor spaces, consider using vertical storage solutions, such as shelving units or wall-mounted racks. Multi-functional furniture, like storage benches or tables with built-in compartments, can also help you efficiently utilize your space.
What are some affordable outdoor storage solutions?
Affordable outdoor storage solutions include weather-resistant storage boxes, outdoor organizing racks, and repurposing everyday items like wooden crates or pallets for storage purposes. Shop around for budget-friendly options, or consider making your own DIY storage solutions.
What are some DIY ideas for creating outdoor storage?
There are numerous DIY ideas for creating outdoor storage. One creative example is a bookcase turned into an outdoor storage bench that can store items while providing seating. Another idea is to construct a storage unit from pallets or repurpose old furniture, like turning a dresser into outdoor storage.
How can I create waterproof storage for my outdoor items?
To create waterproof storage for your outdoor items, invest in waterproof and weatherproof storage containers. You can also make your own waterproof storage by sealing wooden or metal containers with appropriate sealants, such as silicone or paint specifically designed for outdoor use.
Which methods work best for storing outdoor furniture?
The best methods for storing outdoor furniture depend on your available space and the furniture materials. If you have room, consider using sheds or storage covers specifically designed for outdoor furniture. For smaller items, consider stacking or folding them to save space. Always ensure that any cushions are stored in waterproof containers.
Is there an alternative to a shed for outside storage?
Yes, there are alternatives to sheds for outside storage, such as outdoor cabinets, storage boxes, or benches. Additionally, consider using a carport-style structure to store larger items like bicycles and lawn equipment. Your choice will depend on the available space and your storage needs.
---