Designing the Perfect Outdoor Oasis: Discover the Versatility of the Sunbury Outdoor Sectional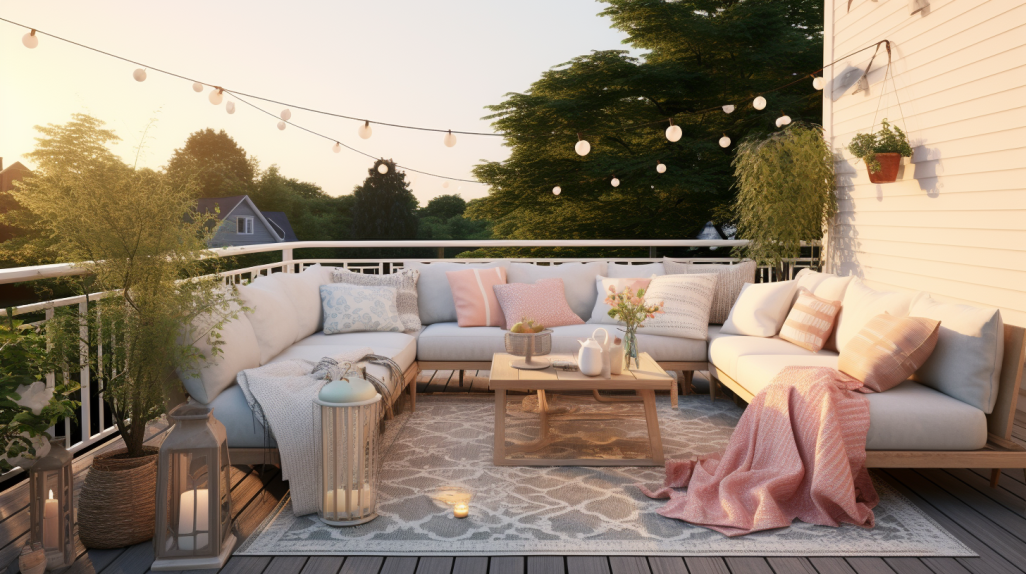 Sun's shining, you're sipping on sweet tea, settled on your Sunbury Outdoor Sectional.
Wouldn't you love to understand its design, know about its material, and learn how to care for it?
With a blend of comfort and functionality, it's important to evaluate its durability.
Let's explore styling ideas, peek at customer reviews, and discover where to get your own.
Get ready to delve deeper into the delightful details of your favorite outdoor furniture.
Understanding the Design of the Sunbury Outdoor Sectional
You'll immediately notice, when looking at the Sunbury Outdoor Sectional, that its design is both elegant and functional. It's more than just a pretty face, though. The sectional assembly is straightforward, with all pieces fitting snugly together, thanks to its precise engineering. You won't need to be a DIY expert to put it together.
The materials used are high-quality and proven to withstand various weather conditions, ensuring the sectional's durability. Now, let's talk warranty information. The Sunbury comes with a comprehensive warranty, a testament to its quality. It covers both material and workmanship defects, providing you peace of mind.
It's clear that this outdoor sectional is designed with both aesthetics and longevity in mind. You're not just buying a piece of furniture; you're making a worthwhile investment.
The Material Composition of the Sunbury Outdoor Sectional
In terms of material composition, you're getting top-notch quality with the Sunbury Outdoor Sectional. This furniture piece boasts a robust frame made of sturdy, rust-resistant steel. Its all-weather wicker and fade-resistant cushions ensure longevity and durability, even in harsh outdoor conditions.
The sectional assembly is a breeze, with all necessary tools and instructions included. Plus, high-density foam in the cushions guarantees comfort.
As for warranty information, Sunbury offers a one-year limited warranty, covering material defects and workmanship. So, you're not just investing in a piece of furniture, you're investing in peace of mind.
With its impressive materials and build, the Sunbury Outdoor Sectional promises to be a long-lasting addition to your outdoor space.
How to Care for Your Sunbury Outdoor Sectional
Taking proper care of your Sunbury Outdoor Sectional will ensure its longevity and keep it looking brand new.
It's important to consider regular cleaning procedures and adhere to seasonal maintenance tips specifically designed for outdoor furniture.
Cleaning Procedures
Maintaining the longevity of your Sunbury Outdoor Sectional isn't hard if you follow the right cleaning procedures. Start with stain removal; use a mild soap and water solution for most spills. For tougher stains, consider a specialized outdoor furniture cleaner. Always test cleaning solutions on a hidden area first. Don't allow stains to sit for long periods, as they can become more difficult to remove.
Invest in protective covers for added defense against the elements. These covers, designed to snugly fit your Sunbury Outdoor Sectional, not only protect it from rain and snow, but also from harmful UV rays, which can cause fading. Regular use of these covers can significantly extend the life of your outdoor furniture, ensuring you'll enjoy it for many seasons to come.
Seasonal Maintenance Tips
Despite the high-quality materials used in your Sunbury Outdoor Sectional, without proper care throughout the changing seasons, you'll shorten its lifespan considerably.
Wintertime, especially, can be tough on outdoor furniture. Hence, winter storage is crucial. Find a dry, protected place to store your sectional. If storage space is a challenge, invest in sturdy, waterproof protective covers. These will shield your set from harsh weather, preserving its looks and functionality.
Don't forget to clean your sectional before covering or storing it. Persistent dirt can cause staining and material degradation.
Regularly check your furniture during off-season months for any signs of mold or mildew.
With these easy steps, you'll enjoy your Sunbury Outdoor Sectional for many seasons to come.
The Comfort and Functionality of the Sunbury Outdoor Sectional
You'll appreciate the Sunbury Outdoor Sectional not just for its aesthetic appeal, but also for its excellent comfort and functionality.
The comfort features are well-thought-out, ensuring you can relax outdoors for extended periods without feeling the least bit uncomfortable.
Meanwhile, the functional design elements ensure longevity, ease of maintenance, and adaptability to various outdoor environments.
Comfort Features
Your comfort's guaranteed with the plush cushions and spacious design of the Sunbury Outdoor Sectional. The cushion quality is impressive, with high-density foam that offers both coziness and durability. You'll appreciate the resilient material that withstands the elements while maintaining its shape and softness.
The Sunbury Sectional isn't only comfortable but also adaptable. It comes in various color variations to match your unique style and outdoor decor. From neutral tones to more vibrant hues, you can choose the perfect color for your space.
It's this combination of comfort and functionality that makes the Sunbury Outdoor Sectional an excellent choice. So, kick back, relax, and enjoy the comfort features of this exceptional outdoor furniture. It's built to meet your needs and exceed your expectations.
Functional Design Elements
In the Sunbury Outdoor Sectional, you'll find a functional design that's all about comfort and utility, and it's not just about its aesthetic appeal.
The sectional assembly is straightforward and user-friendly, so you'll have it set up in no time.
The robust framework ensures durability, while the thoughtfully designed seating offers optimal comfort for those long, lazy afternoons outdoors.
Versatility is another key feature; with its modular design, you can easily rearrange the set to suit your space and needs.
Available in multiple color variations, it's easy to match the Sunbury Outdoor Sectional with your existing décor.
Evaluating the Durability of the Sunbury Outdoor Sectional
Let's delve into assessing the durability of the Sunbury Outdoor Sectional. As you assemble the sectional, pay close attention to the quality of the materials used. You'll notice the robustness of the frame and the resilience of the cushions, all designed to withstand harsh weather conditions.
The sectional assembly is straightforward, a testament to the thoughtful engineering involved. Now, let's check the warranty information. Sunbury offers a generous warranty, reflecting their confidence in the sectional's longevity.
However, remember that even with the best materials and solid construction, the life of your outdoor furniture depends on regular maintenance. Keep it clean, protect it during severe weather, and your Sunbury Outdoor Sectional will serve you well for years.
Styling Ideas for Your Sunbury Outdoor Sectional
So, you've decided on a Sunbury Outdoor Sectional, and now it's time to explore a few styling ideas that'll make it your outdoor oasis.
First, let's talk about Sectional Placement. Consider positioning your sectional to face an impressive view or a focal point in your yard. It's essential to balance your furniture within the space, ensuring it doesn't obstruct pathways.
Next, think about Color Coordination. You'll want to choose cushions and accessories that complement the natural hues in your outdoor space. The Sunbury Sectional's neutral tones provide a versatile base for any color scheme. Durable, outdoor-friendly materials are a must for these accents.
With careful planning, your Sunbury Sectional can be an inviting, stylish feature of your outdoor living area.
Customer Reviews and Feedback on the Sunbury Outdoor Sectional
You've seen the design possibilities, and now you'll want to hear from actual users, as we delve into the customer reviews and feedback on the Sunbury Outdoor Sectional.
Most customers rave about its sturdy construction and durable materials, ensuring longevity despite exposure to the elements. They also appreciate the sectional pricing, finding it offers fantastic value for such high quality. Some mention how the warranty information provided peace of mind, knowing their investment was protected.
However, a few users found assembly somewhat challenging.
Where to Purchase the Sunbury Outdoor Sectional
Finding the right store or online platform to buy the Sunbury Outdoor Sectional is crucial, and it's easier than you might think.
Two key elements to consider are Sunbury's affordability and the clarity of assembly instructions.
Trusted home furnishing websites and big box stores often carry this brand due to its quality and competitive pricing.
It's crafted with durable materials designed to withstand harsh outdoor conditions while maintaining its sleek aesthetic.
The assembly instructions are clear and easy to follow, making set up a breeze.
Plus, many of these retailers offer extra services such as home delivery and assembly.
Frequently Asked Questions
What Is the Warranty Period for the Sunbury Outdoor Sectional?
Inquiring about warranty periods is wise. While I don't have specifics on the product you're referring to, sectional maintenance and material durability often influence warranty lengths. Check the manufacturer's details for accurate information.
Can Additional Pieces Be Purchased Separately to Extend the Sunbury Outdoor Sectional?
Yes, you can purchase additional pieces separately to extend your sectional. It's a great way to customize your outdoor space while maintaining the material quality and easy sectional maintenance of the original set.
How Much Weight Can the Sunbury Outdoor Sectional Support?
You're wondering about weight capacity. Typically, outdoor sectionals like this can support around 250-300 lbs per seat. Its sturdy construction and weather-resistant materials ensure durability under different weight loads and weather conditions.
Does the Sunbury Outdoor Sectional Come Pre-Assembled or Will I Need to Assemble It Myself?
You'll need to assemble it yourself, but don't worry. It's like a puzzle and a good opportunity to get familiar with your new furniture. After assembly, remember to focus on sectional maintenance and cushion replacement.
Is the Sunbury Outdoor Sectional Suitable for Indoor Use as Well?
Absolutely, the sectional's aesthetics and durable materials make it suitable for indoor placement too. You'll find it blends seamlessly with most décor, adding a touch of outdoor charm to your indoor space.
Conclusion
In wrapping up, the Sunbury Outdoor Sectional truly stands out. Take, for instance, Jane from Miami who praised its robustness and comfort after enduring countless rainy seasons and hot summer days.
It's not just a piece of furniture, it's an investment in your outdoor living space. With proper care and clever styling, it promises durability and aesthetic appeal.
Choose Sunbury, it's a testament to quality craftsmanship and outdoor resilience.
---