Transform Your Memorial Day: Create an Explosive Experience to Remember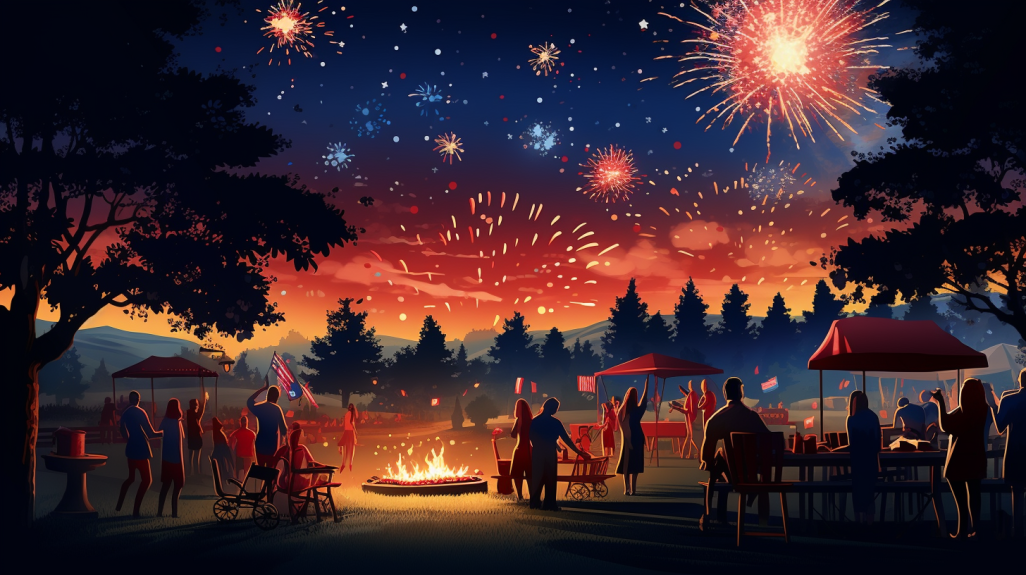 As the flowers bloom signaling the start of spring, plans for Memorial Day begin to take shape. This piece serves as your roadmap to an extraordinary celebration, marrying age-old tradition with inventive twists.
From grilling with a fresh spin on the menu to patriotic crafting activities and gestures of goodwill within the community, no detail is skipped.
With an emphasis on both safety and fun, we also offer advice on setting up your own fireworks display.
Gear up for a Memorial Day celebration that seamlessly blends joy, innovation, and a sense of community for a truly unforgettable experience.
Tips for Intimate Celebrations
Celebrating Memorial Day doesn't always mean hosting large parties. You can also enjoy the holiday in a quieter, more intimate setting with your family. This kind of celebration can be just as satisfying, allowing for a personalized experience and deeper connections.
How about firing up the grill for something a bit different like chicken, lamb, or shrimp? Complement the meal with custom mixed drinks for the adults and tasty smoothies for the little ones. To make sure your outdoor celebration goes smoothly, consider protecting your patio furniture with cushion covers.
For a touch of fun, you could include some backyard games. Think about creating modified Olympic-inspired games, DIY bowling, or even an oversized version of Yahtzee. This approach provides a special way to respect the true purpose of Memorial Day while also creating memorable moments with your family.
Grilling Unconventional Barbecue
Embracing a Personalized Celebration
Bucking the trend of typical barbecue choices can add an exciting spin to your intimate Memorial Day gathering. Rather than the expected hamburgers and hot dogs, why not try grilling unusual meats like duck, quail, or bison? These can introduce unexpected flavors and textures to your meal.
Also, seafood such as shrimp, scallops, and octopus make excellent alternatives, offering a distinctive flair to your grilling repertoire.
Don't forget that vegetables can also take center stage on the grill. Move past the usual corn and peppers and try grilling romaine lettuce, radishes, or even avocados.
For a sweet ending to your meal, grill fruits like peaches or pineapples, which offer a delectable, caramelized finish.
The secret to successful alternative grilling is maintaining an open mind and a readiness to experiment. As the famous chef Julia Child said, 'The only real stumbling block is fear of failure. In cooking, you've got to have a what-the-hell attitude.'
Refreshing Memorial Day Drinks
Your Memorial Day celebration can take a refreshing twist with a selection of chilled beverages. The usual summer favorites like icy lemonade, cold tea, and water infused with fruits could make a delightful accompaniment to your grill offerings. Besides being tasty, these drinks are perfect for cooling off and staying hydrated in the summer heat.
For those who enjoy a tipple, why not mix up some Memorial Day-inspired cocktails? You could bring in the patriotic theme with a tricolored sangria or a bubbly blueberry mojito. Those preferring non-alcoholic choices might enjoy a vibrant berry punch or a soothing mint and cucumber spa water. The aim is to relish the seasonal flavors while keeping cool and refreshed.
Your gathering is bound to be more entertaining with these invigorating beverages.
Fun Olympic-Inspired Games
Spicing up your annual Memorial Day get-together with exciting activities can certainly amplify the fun factor. This year, consider incorporating a series of Olympic-themed games into your event.
These could be simple athletic activities that people of all ages can enjoy, such as three-legged races, long jumps, or even a fun twist on shot put using water balloons.
You can also adapt traditional Olympic sports into lawn games suitable for a backyard setting. Why not set up a badminton net, use Frisbees for a discus throw, or make use of pool noodles for a safe and hilarious javelin throw? You might even design a mini obstacle course, reminiscent of the Olympic pentathlon, to challenge and engage your guests.
The aim is to ignite a sense of friendly competition while keeping everyone active and involved throughout the day. It's a surefire way to add an extra dash of excitement to your Memorial Day festivities.
DIY Backyard Bowling Set
Sticking with our focus on lively outdoor pastimes, let's talk about building a DIY backyard bowling set. This homemade game is a fantastic way to liven up your Memorial Day get-together.
Not only is it cost-friendly, but it also advocates for reusing items you might have lying around, such as old bottles for pins and a small ball for the bowling ball.
Want to make the game a bit more challenging? Consider filling the bottles with sand or water. This will create varying levels of difficulty, adding an extra layer of fun. Once you've got your pins ready, choose a level patch in your yard to serve as your bowling lane.
This DIY backyard bowling set is sure to spark a bit of friendly rivalry, get everyone moving, and offer countless hours of entertainment. It's a straightforward yet thrilling enhancement to your Memorial Day celebration that'll charm kids and grown-ups alike.
Here's a thought to consider: "The best memories are made when we take the time to create fun and engaging activities for our loved ones." So why not give this DIY backyard bowling set a try?
Patriotic Driveway Mural
Expressing your artistic skill and love for the country on Memorial Day can be a fun-filled family project like creating a patriotic driveway mural. This activity not only adds a personal touch to your celebrations but also makes the occasion more memorable for everyone.
The first step is to choose a design that mirrors your patriotic feelings and the essence of Memorial Day. Once you have the design, use chalk safe for driveways to translate your idea into reality. Including classic symbols such as the American flag, eagles, or silhouettes of soldiers can infuse your mural with a strong sense of national pride.
Also, including thank you notes to our brave military can instill a deeper understanding and respect for the holiday among the younger members of your family.
'Art is not what you see, but what you make others see.' - Edgar Degas. Let this Memorial Day be an opportunity to make others see your patriotism and gratitude towards our military through your driveway mural.
Memorial Day Acts of Kindness
Memorial Day is not just about paying tribute to our brave military personnel who have sacrificed their lives for the country. It's also an excellent time for showing kindness in our local neighborhoods. What may seem like a modest act to you, can make a huge difference, promoting unity and respect for our brave servicemen and women.
Why not spend some time at a retirement home for veterans? Sharing conversations and companionship can mean a lot. Another way to contribute could be by organizing a food collection in your town to assist families in need.
Creating handmade thank-you cards for those currently serving in the military is a heart-warming gesture of appreciation for their courage and commitment. Making a contribution to a charity that supports military causes or volunteering at a national graveyard are also meaningful ways to give back.
These actions of compassion not only celebrate our fallen heroes but also bring us closer as a community, fostering a spirit of collective duty. As the great humanitarian, Albert Schweitzer once said, 'The only ones among you who will be really happy are those who will have sought and found how to serve.'
Safe Fireworks Display at Home
A fantastic way to round off your Memorial Day commemorations and acts of goodwill could be a spectacular yet safe fireworks display in your backyard. However, it is of utmost necessity to prioritize safety. Make sure the launching area for fireworks is devoid of people, pets, and any materials that could easily catch fire. Always keep a water source handy for emergencies.
It is also essential to familiarize yourself with the local laws and regulations related to fireworks. Some localities may require you to have a permit, while others might completely ban the use of fireworks. Always purchase fireworks that are endorsed by consumer product safety organizations. Strictly adhere to the guidelines provided on the firework packaging and refrain from making fireworks at home.
And don't forget, once your display is over, you must deal with the used fireworks responsibly. Soak them in water overnight before you throw them away. This ensures a safe and memorable Memorial Day celebration. As the saying goes, 'Safety doesn't happen by accident.' Enjoy responsibly!
Frequently Asked Questions
What Are Some Unique Ways to Display the American Flag During Memorial Day Celebrations?
During Memorial Day celebrations, you might be searching for fresh ways to show your patriotism with the American flag. Consider creating a mural that celebrates the stars and stripes, adding a patriotic touch to your table settings, arranging flowers in a flag-inspired pattern, or even sending a flag-themed kite soaring into the sky. Adding these subtle yet patriotic elements to your celebration not only pays tribute to our nation's history but also sparks a sense of unity and respect for our country. As the saying goes, 'A flag is more than just cloth and ink. It is a universally recognized symbol that stands for liberty and freedom.' So, let's honor it in unique ways.
How Can We Involve the Elderly or Those With Mobility Issues in Memorial Day Activities?
Including seniors or those dealing with mobility concerns in Memorial Day festivities can be achieved by planning events that are user-friendly and promote involvement from everyone. Activities can range from sharing memorable stories, engaging in simple crafts, to indulging in patriotic songs. This approach ensures that no one feels left out and everyone can partake in the celebration.
What Are Some Healthy, Vegetarian Alternatives for a Memorial Day Barbecue?
If you're searching for healthier, vegetarian options for your Memorial Day barbecue, you might want to think about preparing grilled vegetable skewers, Portobello mushroom burgers, or lentil patties. These mouth-watering options can be complemented with a homemade coleslaw that packs a tangy punch or a light and refreshing cucumber salad. This provides a charming and nutritious twist to the usual barbecue food that everyone is sure to love.
How Can Children Be Educated About the Significance of Memorial Day During the Celebration?
During the commemoration of Memorial Day, it's an opportune time to impart knowledge to children about the day's profound significance. This can be done effectively by seamlessly weaving historical lessons into celebratory activities. Sharing narratives about veterans and engaging in dialogues about the necessity of paying tribute to those who gave their lives for our country can also make the learning experience more impactful.
What Safety Measures Should Be Taken When Using Fireworks for a Home Display, Especially With Children Around?
When planning a home fireworks show, particularly when kids are around, it's vital to prioritize safety. It's wise to assign the task of handling fireworks to adults only, while ensuring everyone maintains a secure distance from the firework launching spot. It's also recommended to keep a fire extinguisher within easy reach in case of any emergencies. Above all, adhering to local firework laws is a must. Remember, "Safety first, fun follows".
---