Ty Pennington's Outdoor Furniture: A Mix of Comfort and Style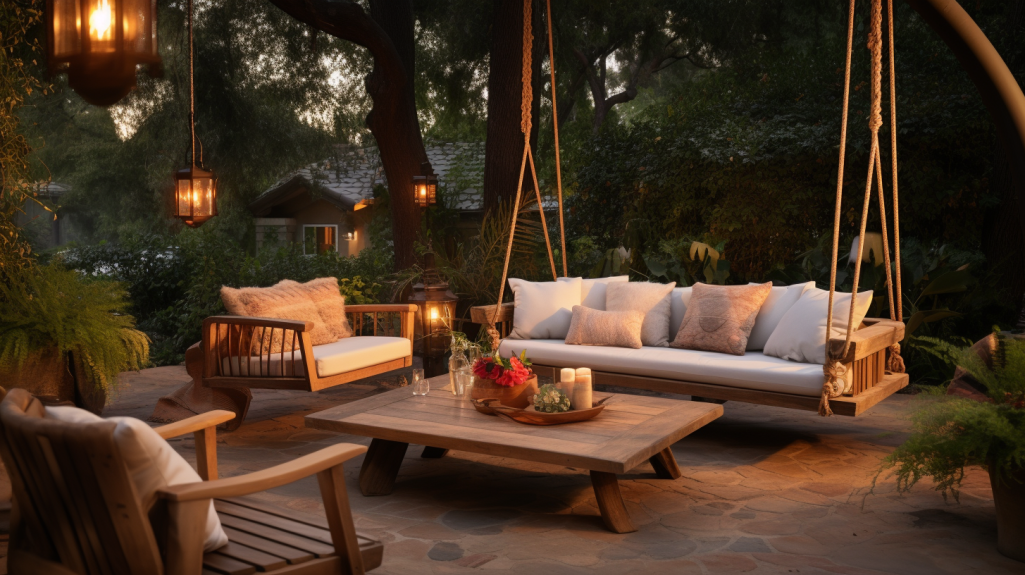 You're about to transform your backyard into a stylish oasis with Ty Pennington Outdoor Furniture. You're not just choosing a brand, you're investing in quality, durability, and trendsetting design.
With Ty's collection, you'll be part of an exclusive group who knows the value of great outdoor living. Let's dive into the uniqueness of this furniture line and learn how to get the most from your purchase.
Ready? Your outdoor transformation starts now.
Key Takeaways
Ty Pennington's outdoor furniture stands out with its unique designs and craftsmanship.
The collection features top-tier materials like teak and acacia, known for their durability and natural beauty.
The furniture blends modern and traditional elements, with clean lines and timeless appeal.
Each piece is designed to foster togetherness and create a sense of belonging.
The Uniqueness of Ty Pennington Outdoor Furniture
You'll quickly notice that Ty Pennington's outdoor furniture isn't like anything else you've seen before. Each piece is a testament to his passion for craftsmanship, blending functionality with design in a way that's uniquely Ty.
The materials used are what truly sets his collection apart. He doesn't settle for less, with each piece showcasing top-tier woods like teak and acacia, known for their durability and natural beauty. These are complemented by robust metals, providing the structural integrity you need for outdoor living.
Ty's designs don't just follow trends, they set them. His pieces are built not only to withstand the elements but also to enhance your outdoor living space's aesthetic appeal. They're the perfect blend of modern and traditional, with clean lines and timeless appeal, ensuring they fit seamlessly into any decor.
But what you'll love most about Ty Pennington's outdoor furniture is the sense of belonging they create. Each piece is designed to foster togetherness, encouraging you to gather with loved ones and create memories. His furniture isn't just about style or durability; it's about creating spaces where you feel at home. That's the Ty Pennington difference.
Understanding the Quality and Durability of Ty Pennington Outdoor Furniture
It's essential to grasp the robustness and longevity of these patio sets. Ty Pennington Outdoor Furniture is crafted with the highest quality materials, ensuring they withstand the test of time and elements. Now, you're part of a community that values long-lasting, beautiful patio furniture.
To truly appreciate these pieces, consider:
Materials: They're made with weather-resistant materials like teak and aluminum, perfect for outdoor use.
Construction: Their craftsmanship is impeccable. They're sturdy, durable, and designed to last.
Design: The designs are modern yet timeless, fitting perfectly into any outdoor living trend.
Comfort: Despite their robustness, they're incredibly comfortable, making your patio a perfect relaxation spot.
Maintenance: With simple care instructions, they're easy to keep looking new.
Remember, you're not just buying patio furniture. You're investing in a lifestyle, a sense of belonging in a community that appreciates quality and style. With Ty Pennington Outdoor Furniture, you're assured of not just durability, but also a classy aesthetic appeal that transforms your outdoor space into a perfect haven.
Join the community that understands quality, durability, and style today!
Styling Tips for Ty Pennington Outdoor Furniture
Styling your patio set shouldn't be a chore, and there are plenty of ways to make it shine. Start by arranging your Ty Pennington outdoor furniture to create a warm, welcoming space. Think about the flow of traffic and where you'd like to draw people's attention. Perhaps you've got a beautiful view you want to highlight, or maybe you're creating a cozy corner for conversation.
Next, consider your outdoor cushions. Ty Pennington offers a range of durable, weather-resistant cushions that pair perfectly with his furniture. You've got options, so don't be afraid to mix and match patterns and colors. You're creating a space that reflects your style, after all.
Don't forget about accessories. Outdoor rugs can define spaces and add a touch of comfort underfoot. Weather-resistant throw pillows can add a splash of color or a fun pattern. And don't overlook the power of outdoor lighting. String lights or lanterns can create a magical ambiance once the sun goes down.
Care and Maintenance for Ty Pennington Outdoor Furniture
Caring for your Ty Pennington patio set doesn't have to be hard; there's a simple routine that'll keep it looking brand new. You've made a great investment in this high-quality furniture, designed by a name synonymous with style and durability. Now, you're part of a community that values outdoor living and impeccable taste.
Here's a maintenance routine that's easy to follow:
Clean your furniture regularly with a mild soap and water. Avoid harsh chemicals that could damage the finish.
During harsh weather conditions, cover your furniture or move it to a covered area.
For metal pieces, check for any signs of rust. If you notice any, treat it immediately with a rust-neutralizing primer.
Reapply protective finish to wood furniture annually to prevent cracking and warping.
Rotate and flip cushions regularly to ensure even wear and prolong their lifespan.
Exploring Different Collections of Ty Pennington Outdoor Furniture
There's a wide range of collections to explore, each offering its own unique aesthetic and functional appeal. You'll find that Ty Pennington's outdoor furniture is not just about functionality, but also about creating an inviting outdoor space you can't wait to return to.
Consider the Mayfield Collection, for instance. Its deep-seating pieces, crafted with all-weather wicker and high-performance fabric, create a cozy, rustic appeal. This collection is perfect if you're after that laid-back, country-living feel.
But maybe you're drawn to sleek lines and modern designs. If that's the case, the Parkside Collection is right up your alley. With its minimalist design, it delivers a contemporary vibe that's sure to impress.
Now let's talk about the Del Sol Collection, where style meets durability. The handwoven resin wicker and rust-resistant steel frames guarantee longevity while providing an appealing visual balance. It's ideal for those who desire a touch of elegance in their outdoor spaces.
Frequently Asked Questions
Where Can I Purchase Ty Pennington Outdoor Furniture?
You're in luck! You can purchase high-quality, durable outdoor furniture, designed with the latest trends in mind, from various online retailers and physical stores. It's a sure way to enhance your outdoor living space.
Does Ty Pennington Outdoor Furniture Offer a Warranty for Their Products?
Yes, you'll be glad to know, most outdoor furniture brands typically offer warranties. It's a comforting fact that 80% of them cover their products, ensuring you're part of a community that values quality and trust.
Are There Any Special Discounts or Promotions Currently Available for Ty Pennington Outdoor Furniture?
You're in luck! There are indeed special discounts and promotions available. These offers vary, so it's best to check frequently to snag the best deal on your desired outdoor living pieces. Don't miss out!
Do They Offer Custom-Made Outdoor Furniture Options?
Yes, you're in luck! They do offer custom-made options. You can tailor your outdoor space to your taste, choosing from a variety of materials and styles that'll make your backyard uniquely yours.
What Are the Shipping and Delivery Options for Ty Pennington Outdoor Furniture?
You're curious about shipping and delivery options, aren't you? They offer both store pickup and home delivery. Depending on the item's size and weight, you might choose the most convenient option for your lifestyle.
Conclusion
So, you're ready to transform your outdoor space? Ty Pennington's furniture is your best bet. Will it withstand the elements? Absolutely. Will it keep up with the latest trends? You bet.
But there's more to the story, more collections to explore, more style secrets to unveil. So, stay tuned, because your outdoor living transformation is just getting started.
---